Merdeka!Merdeka! Blogger Contest
Assalamualaikum
Hai korang☺☺ Ada ke yang belum join...Aduduh,rugi tau kalau tak join.Yes,Lazada sedang mengadakan Merdeka Blogger Contest! So amatlah rugi kalau korang melepaskan peluang untuk contest kali ini.
Contest ini berlangsung pada 21 Ogos sehingga 31 Ogos.Korang hanya perlu menjawab tiga soalan untuk contest kali ini..Mudah sangat..
Hadiah yang ditawarkan untuk contest Merdeka!Merdeka! Blogger Contest
1st PRIZE : 1 x RM600
2nd PRIZE : 2 x RM300
3rd PRIZE : 3 x RM200
Nak tau lebih lanjut tentang contest ni klik https://www.lazada.com.my/blogger-contest/
WHAT DO YOU LOVE BEING MALAYSIAN/APA YANG ANDA SUKA MENJADI RAKYAT MALAYSIA
Of course,syukur tak terhingga dilahirkan di Malaysia,menjadi anak Malaysia yang aman dan damai.Pelbagai kaum dengan semangat persahabatan yang tinggi,rakyat Malaysia yang senantiasa menitikberatkan kerohanian dan semangat berpasukan.Malaysia adalah Negara yang kaya dengan alam semulajadi yang tiada di tempat lain.Sebab tu saya bangga menjadi rakyat Malaysia.
CHOOSE YOUR FAVOURITE LOCAL BRAND/PILIH JENAMA TEMPATAN KEGEMARAN ANDA
Ok..Untuk local produk aku memilih barangan Electronic dari KHIND.Kebanyakkan produk electronic di rumah memang menggunakan jenama ni.Produk dari KHIND sangat berkualiti dan berbaloi dengan harganya.korang boleh terjah pelbagai lagi barangan dari KHIND di SINI
SELECT TWO PRODUCT FROM THAT BRAND THAT YOU LOVE/PILIH DUA BARANG DARI JENAMA YANG ANDA SUKAI
Ok..Untuk jenama yang aku suka ni,ada dua yang menjadi idaman hati aku.Dah survery dengan brand lain,tetapi KHIND masih lagi di tahap mampu milik.Juicer ni sangat-sangat membantu aku dalam menjalani hidup yang sihat dengan mengamalkan meminum jus buah-buahan.
PRODUCT: Khind Slow Juicer JE150S Continuous Jucing Retain Nutrients and Vitamins Easy to Clean
HARGA : RM549.00
LINIK : SINI
Produk kedua yang aku inginkan adalah AirFryer dari Brand KHIND.Ia adalah sama tujuannya dengan produk di atas,dengan adanya Air Fryer ni,mudahlah kan nak jaga diet yang seimbang tanpa penggunaan minyak yang berlebihan.
PRODUCT: KHIND ARF22 HIGH QUALITY AIR FRYER LESS OIL HEALTHY SAFE COOKING
HARGA : RM415.00
LINIK : SINI
Kedua produk yang aku pilih ini sangat bagus kualiti di samping harga brand local yang sangat berbaloi.
Hah!!Sempena bulan kemerdekaan ni,aku saja nak ingatkan korang bahawa Lazada Malaysia sedang mengadakan Merdeka! Merdeka Sales dari 25 Ogos 2017 sehingga 31 Ogos dimana korang akan dapat potongan harga sehingga 80%
So jangan tunggu lama lagi tau,takut nanti barangan yang korang nak tu,melepas.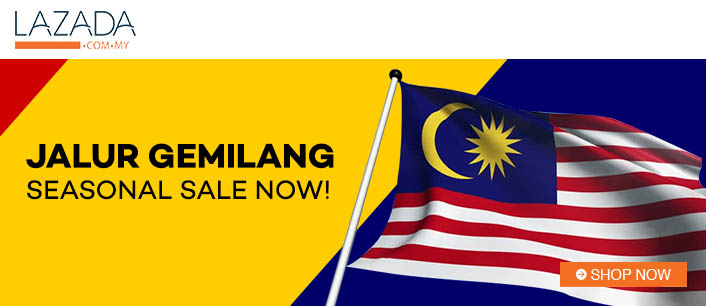 ---
→Thanks for Reading kisahsidairy.com←
Contact me at :sitirohaida81@gmail.com
---